Buteyko – How can it help you?
The Buteyko Method is based on the research of Professor Buteyko (Ukraine) who dedicated his life to study dysfunctional breathing. He developed specific breathing exercises to reset and normalise breathing parameters like rhythm, volume and rate.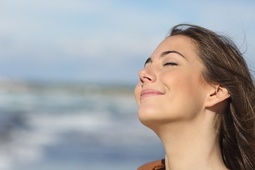 Are you breathing too much?
Over-breathing can result in mouth breathing, anxiety/panic attacks, asthma, chronic nasal congestion, sleep disorders (insomnia, snoring, sleep apnoea), headache and hay fever.
Learning and applying the Buteyko breathing techniques will give you a drug free method to control your symptoms. By retraining your breathing you will reset the tolerance levels of carbon dioxide accepted by your brain which will result in a quieter, slower and smoother breathing.
During the breathing course you will be introduced to specific breathing exercises, techniques and lifestyle recommendations to improve your breathing and your health.
Breathing courses are suitable for adults and children over 4 years. We have different course options from 2 – 6 weeks.
A qualified Buteyko Institute Associate Practitioner will guide and support you through the health education programme.
For more information around the breathing programme and course options visit my website www.snhl.co.nz.
Pia Schroeter can be contacted using the form below or pia@simplygreathealth.co.nz
Register your interest in a Buteyko Breathing course.
Upcoming Courses – starting dates
May
02.05.16 | Time: 11 – 12:30 pm
16.05.16  | Time: 4 – 5:30 pm
23.05.16  | Time: 11 – 12:30 pm
30.05.16  | Time: 5 – 6:30 pm
June
13.06.2016   |  Time: 11 – 12:30 pm
20.06.2016  |  Time: 5 – 6:30 pm
27.06.2016  |  Time: 11 – 12:30 pm
July
04.07.2016  |  Time: 4 – 5:30 pm
25.07.2016  |  Time: 5 – 6:30 pm
School holiday breathing programme for children:
July
11.07.2016 | Time: 11 – 12 pm (School Holiday)
Location:
16 Saturn Place, Albany, North Shore, Auckland