Herbal Medicine
This is the therapeutic use of plants to help enhance health, prevent disease and alleviate suffering.
Herbs work by assisting the body to heal itself rather than by supressing the symptoms of illness.
Herbal medicine blends traditional herbal knowledge which allows us to understand which herbal medicines work for which condition or ailment, with modern science helping us understand better how they work.
Herbal medicine can come in the form of tinctures, capsules, teas, syrups (especially for children) salves, ointments or Homeobotanical preparations, which are a blend of potenized homeopathic remedies and low potency herbs.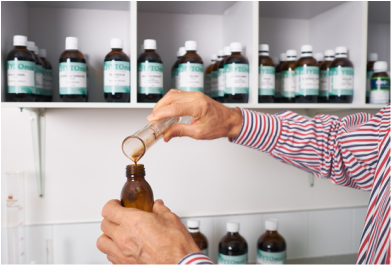 Pharmaceutical Drugs and Herbal Medications
The benefits of pharmaceutical drugs cannot be denied, with many diseases and infectious illnesses now treatable and no longer fatal. Herbal Medicine when prescribed by a trained professional can complement many of these treatments by helping reduce the side effects, possibly then reducing the need for polypharmacy (the use of a number of drugs together), so decreasing the toxic load on the body.
A trained medical herbalist will also be aware of negative drug/herb interactions, and will know which herbs can be safely used alongside pharmaceutical medications.
Pricing options available here
Personalised Herbal Formulas 
Our personalised blends are formulated to meet your specific requirements.