Far Infrared Sauna 
When it comes to revitalizing your health, the healing process and just simply feeling great, there are few things that compare to a Far Infrared Sauna! It supports the natural elimination process of the body, assisting the healthy clearance of toxins and heavy metals.
Never before have our bodies been exposed to such a large amount of toxic chemicals, as they are today. These can come from food additives, building materials, solvents and thousands of other chemicals that are part of modern living. Many of these chemicals harm the body and although the effects are usually subtle, they accumulate and can have detrimental effects on the body.
According to the United States Environmental Protection Agency (EPA), toxic chemicals are responsible for up to 80% of cancer deaths. The Far Infrared Sauna maintains your health by supporting the body's  natural detoxification process of these toxic chemicals and heavy metals, supports healthy tissue and a strong immune system. Sauna therapy may also provide the following benefits:
– Healthy metabolic rate
– Energy
– Relaxed muscles and calm nervous system
– Good circulation
– Clear skin
– Support for the health of internal organs
– A strong robust immune system
– Healthy blood pressure
– Flexible and comfortable joints
Research from Finland (the home of the Sauna) suggests that regular sauna use may support a healthy cardiovascular system throughout our senior years.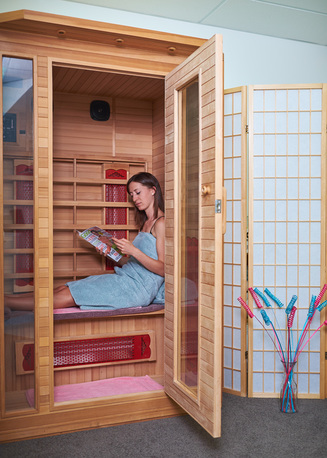 A Far Infrared Sauna can be used by people of any age.  It is the perfect place to meditate and we have a range of meditation tracks available that can be played inside the sauna.  For an appointment contact Simply Great Health on (09) 444 4527.